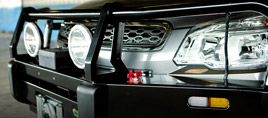 International Fleet Sales (IFS) applies its experience and expertise to the Aid & Development sector — helping humanitarian organizations redirect valuable time, focus and funding from transportation and logistics to the achievement of their important ultimate goals.
IFS partners with GM to provide sales, service and fleet managed solutions featuring GM Thailand's Chevrolet Colorado and Trailblazer products – vehicles that are perfectly engineered and equipped for the demanding environments in which humanitarian organizations operate.
IFS is also the only distributor with a GM mandate to quote, supply, service, and support additional cars and trucks from the Chevrolet global product portfolio.
For a comprehensive analysis of your operational, geographic, and logistical requirements, and to develop a portfolio of cost effective options for consideration, please contact your nearest IFS office or view additional information below.
IFS Aid & Development Contacts